Did you know? The earliest Christmas lights, (that is lighting that went around the Christmas tree) were candles. Candles were glued to the tree with melted wax or attached to branches by pins. Thankfully, today we are safer and a bit smarter. Buckets of sand and water are no longer needed for decorative lighting.
Origin: The first electrically illuminated Christmas tree was created in New York City, 1882 by the inventor Edward Johnson. Johnson worked under Thomas Edison and became the vice president of Edison Electric Light Company. Johnson had three daughters and wanted to brighten things up for the holidays. His tree was hand-wired with tree bulbs especially made for him and consisted of 80 red, white, and blue globes. The magazine Electrical World stated Johnson had the "handsomest Christmas tree in the United States." Johnson is known today as "The Father of Electric Christmas Tree Lights."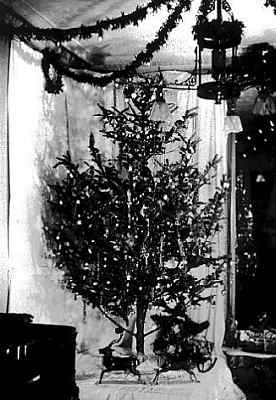 This photo was taken on 25 Dec 1882 showing Edward H. Johnson's Christmas tree with strings of electric lamps.
 Presidential Lighting: President Grover Cleveland had the first White House Christmas tree with electric lights in 1895.
The Cleveland Family Christmas Tree
Pretty, but Pricey: Electric Christmas lights were available for sale in 1890. However, much like LED's when they first arrived, they were too expensive for everyday purchase. In 1903, one set of 24 Christmas lights sold for $12.00. You not only paid for the lights, but you paid for electrician fees along with a generator if your house didn't have electricity. The average family during this time made $9 a week. Christmas lights were more than likely not on the Christmas list for most people.
Joy to the world, electric lighting has come: Gone were the days of fire hazards and candles. By the 1920s, even General Electric began to sponsor community-wide Christmas lighting contests. In 1923, the tradition of lighting the National Christmas Tree in Washington, D.C. started. However, Christmas lights and large trees didn't become standard in businesses and local gathering areas until the 1930s. Residential neighborhoods didn't begin lighting rows of houses until the 1950s and 1960s. This boom in Christmas lighting was due to the post-war economic growth the country experienced.
Where we are now: It is estimated that over 150 million light sets are sold in America each year. 80 million of those are residential homes and consume 6 percent of the nation's electrical load each December. Community decorations went from one solitary tree, to a masterpiece lighting display that even Clark Griswold would be envious of. See the 1989 American Film "National Lampoons Christmas Vacation" for reference. Also, it's good to remember that lighting is not the primary factor that will cause high energy usage in the winter months. Most Christmas lights are now LED and energy-efficient. The biggest factor for higher winter usage is thermostat settings, and outside air temperature.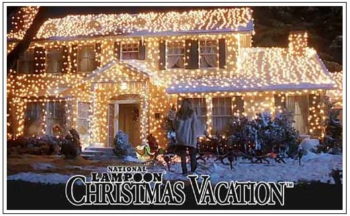 The Griswold's family home from "National Lampoon' Christmas Vacation."
Happy Holidays from everyone at CDE Lightband Power Partners!
by Robert Denson